About the Inn
Angel Inn Bed and Breakfast is located directly on the picturesque shores of beautiful Green Lake, Wisconsin.  A circa 1910 Greek Revival lakefront Bed and Breakfast we feature five tastefully appointed guest rooms, with all of the amenities of today. Fall in love with the quiet pace, stunning natural beauty, spectacular sunrises, watch the moonlight shimmer across the lake, all from the veranda porches and our boathouse deck! Experience the finest in Green Lake lodging.  A truly "Romantic Boutique Hotel".
Our Policies
Important Reservation Information…
We welcome your reservation – you may check availability and book online by clicking the check availability & reservations tab or by calling 920-294-3087 or e-mail at info@angelinns.com with questions. Please read our cancellation and refund policy carefully. By making a reservation you are agreeing to the terms. Because we want our guests to have the most enjoyable stay possible, the Angel Inn and grounds are available to registered guests only.

Weekend Stays
Due to high demand for weekend stays, we require a two-night minimum reservation for most weekend stays. Occasionally single weekend nights do become available, please check our online reservation system for your desired dates. Holidays or special events may have extended stay requirements.
Midweek Stays
Sunday thru Thursday can be booked as a single night stay.
Deposits
Our deposit is the equivalent of a one night stay including tax and is required at the time
of reservation. We accept Visa or Master Card, advanced deposit check or cash.
Rates are based on double occupancy.
Cancellations
Because we are a small Inn, cancellations affect us significantly. Therefore, we adhere to a strict cancellation policy. You may cancel your reservation at any time up to 21 days prior to your arrival, any cancellations received 20 days or less prior to scheduled arrival will be charged for the dates of your reservation unless we are able to resell the room. Special events may have an extended cancellation policy. Angel Inn Bed and Breakfast is located directly on the picturesque shores of beautiful Green Lake, Wisconsin. A circa 1910 Greek Revival lakefront Bed and Breakfast, the inn features five tastefully appointed guest rooms, with all the wonderful amenities of today.
Check In: 3:00PM to 7:00PM
Check Out: By 11:00AM
Children: We adore children, however most of our guests are couples looking for a quiet getaway. For that reason we no longer accept guests under the age of 18. By city ordinance we are limited to two guests per room.
Pets: Sorry, no pets are allowed in the inn.
Smoking: No smoking in the Inn, smoking is allowed in designated areas outside.
Especially Appealing:
A bountiful breakfast buffet served each morning from 8:30-9:30am.
Enjoy breakfast in our lakefront dining room, or outside over looking the water.
Afternoon wine and cheese served on the weekends from 4-6pm.
Chocolates and fresh cut flowers
Refreshments: water, coffee, specialty teas available throughout the day.
Wireless internet access.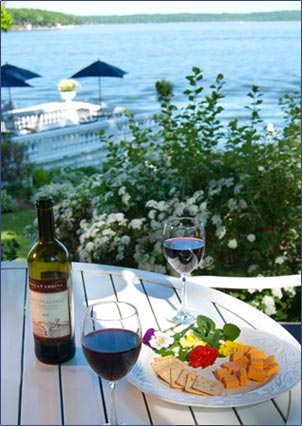 Activity recommendations and planning.
Movies and books available to borrow.
Many beautiful common areas for guests of the Angel Inn.
Onsite parking for cars, boat trailers, bikes, motor cycles, and boats.
Bicycles to rent for a jaunt around the lake & return for a soak in your Ultra Spa Whirlpool tub!
Parents In Need
After a lot of soul searching about how we might be able to use the beauty & solitude of our lakefront Bed & Breakfast to "give back", we created the Parents in Need (PIN) program. It is designed for parents who are struggling with having recently lost a child, or have an immediate family member who has been diagnosed with cancer or another terminal illness. As parents, we lost our son Kris in a car accident shortly before he turned 16. Eight years later our 18 yr. old nephew Aaron also lost his life in a car accident. Kathy's brother & his wife also have tried to turn that tragedy into something positive by taking an idea that Aaron had and opening Aaron's House – located near the campus in Madison.  Aaron's House is a recovery support house that allows young people who have struggled with addiction to return to school/work while staying at a place that continues to provide recovery support. (see Aaron's story here – http://www.aaronmeyerfoundation.org/aarons-story).  Our families know firsthand how you can become trapped by feelings of hopelessness and despair. At times it may seem like you won't make it through another day. We discovered that sometimes simply being around other parents that have gone through a similar experience and survived, somehow provided hope. Since the Angel Inn opened in 2000, many parents who have heard our story have visited us, we have also seen many families devastated when a child or a parent is diagnosed with a terminal illness. Many of these parents have found their way to the Angel Inn over the years and discovered some measure of peace and comfort. Throughout the year we operate as a Bed & Breakfast just like any other – and cater to couples looking for a relaxing few days away at a lakefront resort.  However – we do have a couple of times each year that we donate stays to Parents In Need. This program is designed to give those parents struggling with a loss an opportunity to get away for a few days. It is funded by the Kristopher Greening Foundation, which allows us to donate the room at no charge. Each year we will designate a number of PIN two night stays at the Angel Inn for couples who have been nominated & selected for a PIN getaway.
Tell Us Your Story
If you are, or if you know of a couple who could benefit from the PIN program, then we want to hear from you. Tell us about your family, or the family that you would like to nominate that is dealing with such a loss, or struggling with a terminal illness and what it would mean to be able to get away for a couple of days at the Angel Inn. While we can't provide stays to everyone nominated, we try to offer it to those that we can.  Please send us your story, along with a recent photo of your family or the family you are nominating along with a phone number. Please send to Angel Inn, 372 S. Lawson Drive, Green Lake, WI 54941. Please note we will not be able to return any photos submitted.